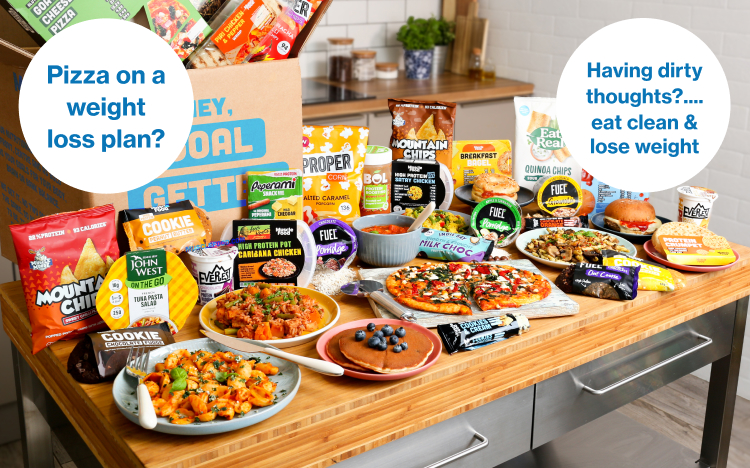 Goal getters powered by Musclefood
At just £3.33 per meal and snack, our weight loss plan helps you lose weight with a sustainable, high protein meal plan that lets you eat delicious, nutritious calorie balanced meals.
Get our lowest price 5-day weight loss plan for just £49.99 + free delivery!
Enter code SUPERSLIM-5-FREEDEL at checkout
done
Designed to help you lose weight
done
Free access to selected FiiT workouts
done
Healthy & convenient
done
Just £3.33 per meal & snack!
Why Goal Getters?

Flexible weekly deliveries, straight to your door

Free access to selected FiiT workouts

Easy to follow pasta kits and prepared ready meals that taste great

From £3.33 per meal and snack to save you money on weekly groceries.

Get access to our members-only online community for help and motivation.

Cancel anytime – there's no contract
What is a calorie deficit and why is it effective?
So, you've decided to give our Super Slimmer 5-day meal plan a whirl, have you? Well… YAY - we're thrilled to have you on board!
We know you're going to have lots of questions, one of which is likely to be just how on earth does this meal plan work in helping you lose weight?
And, we'll be honest, there's a really complicated, scientific way to explain it, buuuut, we don't wanna bore you, so consider this the Cliff Notes version.
Your plan has been designed to support what the fitness peeps call a Calorie Deficit with a banding of 1200 to 1800 calories per day.
But unlike fad-diets, foodie trends, and the hellfire and brimstone "you must never consume carbs again or you'll ruin your life" lot, the Calorie Deficit is the only proven method to support weight loss.
Simply put, a Calorie Deficit means you will consume fewer calories than you burn daily.
The result? Weight loss!
Now, this is where it can get a bit tricky because to figure out just how many calories you ought to consume to be in a deficit, you first need to work out what your Basal Metabolic Rate (BMR) is and Total Daily Energy Expenditure (TDEE).
You can do this yourself, but it's much easier to use a TDEE calculator which will work out all the sums and even tell you what percentage you'd need to reduce your calorie intake by to reach your goal.
Work smarter, not harder.
In general, a reduction of 10-20% of your daily intake will suffice, which our 5-day meal plan will support with bells on!
Don't forget to maintain this reduction for the other 2 days of the week for consistency and maintaining your goal.
In fact, when you make your meal selections with us, our handy average daily calculator will tell you just how many calories you'll be tucking into.
Meaning you can take the pick of the meal bunch, and guarantee you maintain that deficit - simple.
Now, go on and get stuck into that plan – we're rooting for you and can't wait to see what you achieve with Goal Getters.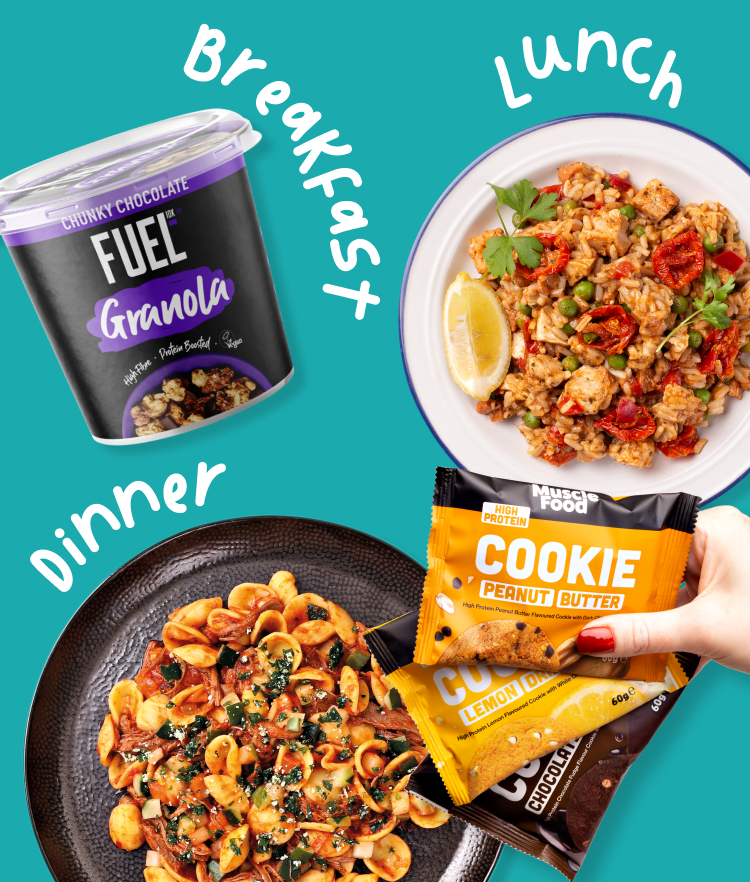 Pancakes for breakfast, tuna salad for lunch and protein pizza for tea, losing weight never tasted so good. Handpick from chef-created, breakfast, lunch, dinner and snack options, receive 3 protein fuelled meals with 3 snacks every day, delivered straight to your door.
Cancel at any time – No contract
If you wish to change your meal selection, frequency or stop future deliveries you can up to 72 hours before dispatch. Now available for delivery 7 days a week, including Sunday.
Future Deliveries: You will receive a new delivery every week (covering a 5 day meal plan). This will be charged at the full price of £46.99 / week. See here for more information on cancelling subscriptions.