Or Choose These Freebies:
- Free Loaf Of Protein Bread
- Free 2 x British Haché Steaks
- Free 4 x Chicken Breast Fillets
- Free 2 x Horse Fillet Steak
You will be given the option to choose when you enter the code at checkout.
How to Claim:
Place any order and

enter code

at checkout

4 x Chicken Breasts will be added for free, gratis – nothing!

Your order will be delivered chilled on a day that suits you
Enter Code: At Checkout
Start shopping, view our great offers below.
* Minimum order of just £25 applies. New customers only.
Award Winning Lean & Trimmed Meats
Limited Birthday Week Offers
New Year Meats & More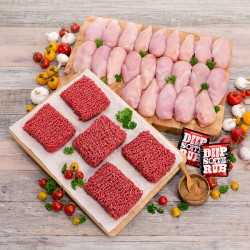 World Class Proven Supplements
Free Range Extra Lean Trimmed Steaks
CYBER MONDAY IS HERE - Special Offers For ONE Day ONLY!