EXCLUSIVE Savings on these:

- Award-Winning Hand Trimmed Fresh Meats
- GMO-Free Fresh Vegetables
- Fresh Seafood & Exotic Meat Ranges
- Premium Supplements Ranges
- Healthy Snacks & Desserts
- Low Calorie, High Protein Pizza's
Save 10% on your ENTIRE order!
How to Claim:
Add £50 worth of products to your basket
(Choose from 1,000+ products)
Enter code: LDNMBB at checkout

A 10% discount will be deducted from your order!*
ENTER CODE: LDNMBB AT CHECKOUT TO SAVE 10% OFF YOUR £50+ ORDER!
Start shopping, view our great offers below.
*Order must be a minimum of £50 before delivery costs and before delivery is applied.
Only valid for LDN Guide Customers only.
Award Winning Lean & Trimmed Meats
Limited Birthday Week Offers
New Year Meats & More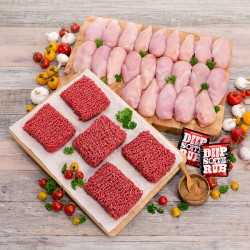 World Class Proven Supplements
Free Range Extra Lean Trimmed Steaks
CYBER MONDAY IS HERE - Special Offers For ONE Day ONLY!