EXCLUSIVE Savings on these:

- Award-Winning Hand Trimmed Fresh Meats
- GMO-Free Fresh Vegetables
- Fresh Seafood & Exotic Meat Ranges
- Premium Supplements Ranges
- Healthy Snacks & Desserts
- Low Calorie, High Protein Pizza's
Save £20 on your ENTIRE basket!
How to Claim:
Locate your £20 off code (on e-mail or SMS)

Choose from 1,000+ products

Enter your code at checkout

£20 will be deducted from the cost!*
ENTER YOUR UNIQUE CODE AT CHECKOUT SENT TO YOU VIA SMS & E-MAIL!
Start shopping, view our great offers below.
*Minimum order of £10 for ambient items and £25 for chilled goods, after discount is applied. Applies after discount is applied - New Xercise4Less members only.
Award Winning Lean & Trimmed Meats
Limited Birthday Week Offers
New Year Meats & More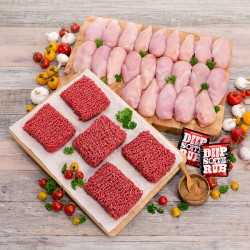 World Class Proven Supplements
Free Range Extra Lean Trimmed Steaks
CYBER MONDAY IS HERE - Special Offers For ONE Day ONLY!