Fresh Meat Delivery
If you're looking to buy the best quality fresh meat online, then sink your teeth into our mouth-watering range! From steaks to chicken breasts, our premium cuts of meat are hand selected, trimmed and prepared by our professionally trained butchers, so you know you're getting top quality cuts of meat delivered direct to your door every time.
Track your order
Once your order has been processed you will then receive an e-mail with the details of your courier and full tracking details, courtesy of our delivery partners DPD.
With DPD, you can choose a delivery day to suit you. You will also receive an SMS containing the specific two-hour slot your order will be delivered in along with a tracking code so you can trace your order. Please ensure to double check your mobile phone number when placing your order, also be aware that this is an estimate and drivers can be delayed due to heavy traffic and other factors out of their control.
Not going to be in? All deliveries can be left in a designated safe place, with a neighbour or can be re-directed to be delivered another day, but if you wish to sign for your delivery yourself our SMS notifications will help!
Our chilled packages keep your deliveries fresh
All our meat is delivered in specially designed temperature controlled boxes that stay chilled for up to 48 hours, guaranteeing you fresh produce every time.
Your MuscleFood order is protected by using: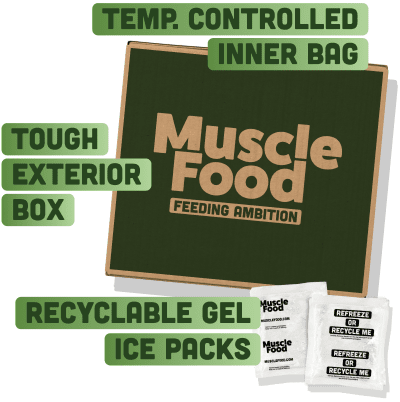 Top quality temperature controlled boxes - Our insulated boxes are made from closed cell non cross linked polythylene keeping your meats fresh for up to 48 hours.
Hydrated gel ice sheets - These specially designed sheets are pre-cooled before enveloping your order to ensure your meat arrives chilled (not frozen). They help keep your meat as fresh as the day it was cut and they can also be reused.
Triple strength layered box - Our custom made boxes are three times stronger than ordinary boxes and are specifically designed for carrying chilled meats.
Delivery within 24 hours - Although the boxes are designed to stay cool for 48 hours, we aim to deliver your meat in 24.
Recyclable & reusable - All our packaging has been designed to be reused or recycled