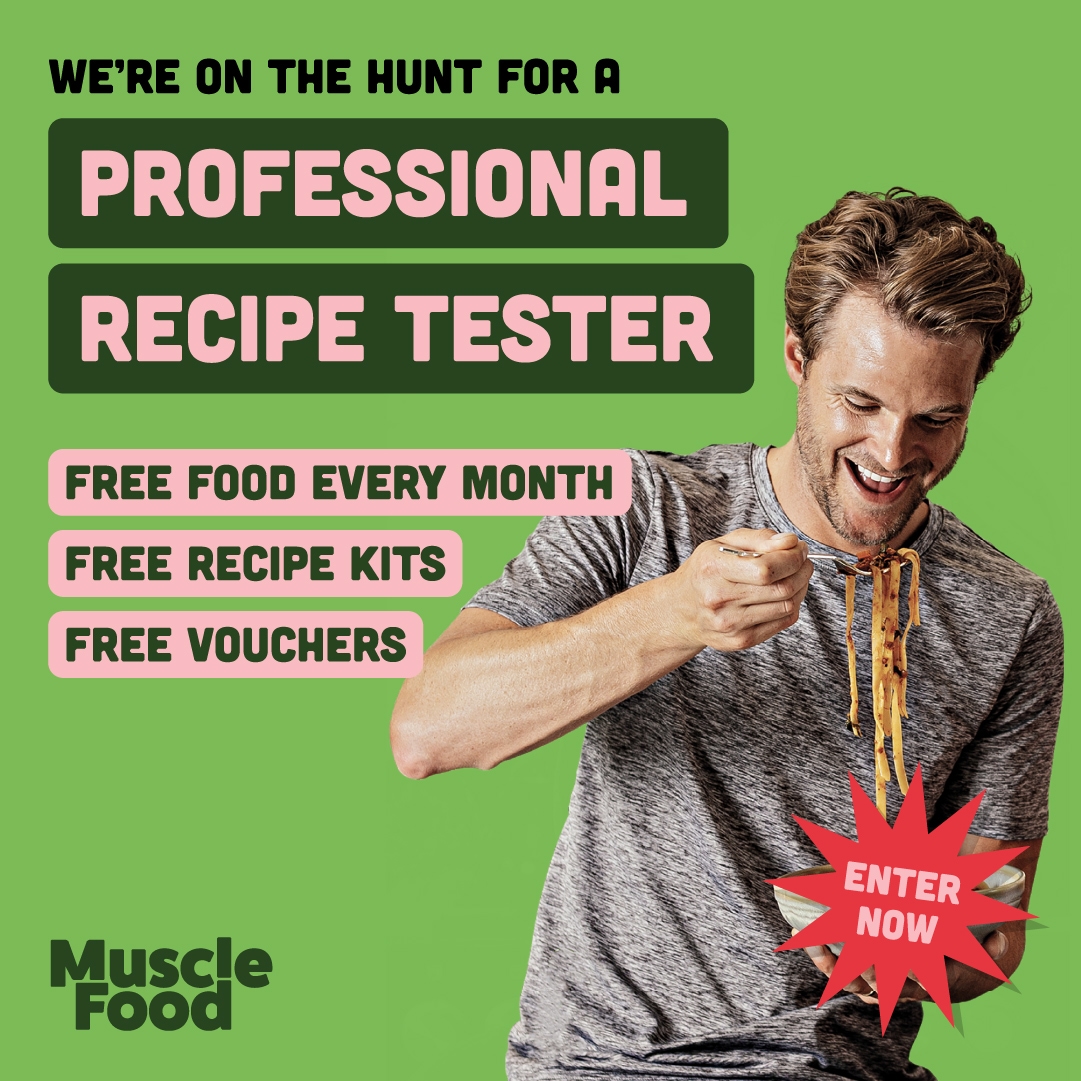 Recipe Tester
Want to Become a Professional Recipe Tester?
Yeah, you read that right. We're on the lookout for the official Muscle Food recipe tester. Are you the person who's always after new foods, new recipes, new flavours? The person who completely understands how food helps you reach your goals? The person everyone goes to for the BEST food recommendations?
You are? Amazing. We want to hear from you. And who knows, you could be the newest member of our team faster than you can say "that MuscleFood recipe was healthy AND delicious".
What Will The Job Be?
As our official recipe tester, you'll receive exciting new recipe kits every month, straight to your door. All you have to do is make them, eat them, and let us know what you think, playing a huge part in deciding which will end up going out to our customers.
You could be responsible for discovering a future best seller. Thought the Ultimate Burger Bowl was good? Wish you could eat our famous Spicy Sausage Gnocchi every day for the rest of your life? (Same). You haven't seen anything yet. Some of the recipes we've got in the works are bound to blow these out the water - and you could be the very first to try them.
You'll also receive monthly MuscleFood vouchers between the value of £50 - £100 to spend across the site on whatever you fancy as payment for helping us find the best new recipes. It's no small responsibility to eat this much delicious food each month, we know.
When do Applications Close?
Entries for this dream job will close on 21st April 2022 at 11:59pm GMT, so don't put off applying - roles like this don't come up often!
Sounds Good. How Can I apply?
Fill in the form below by the closing date for the chance to land this delicious role.
Enter your email address to apply:
Applications close in
Terms and Conditions
18+ applicants only
Applicants must be a UK citizen or permanent resident of the UK.
By submitting your application details, you give Muscle Food permission to subscribe you to our mailing list. You can unsubscribe anytime
This is not an offer of employment. The successful applicant will be given recipe kits to try and vouchers to spend onsite once a month for 6 months. No further payments or benefits will be given to applicants.
Applications close on April 21st, 2022 (11:59pm GMT) with the successful applicants contacted by May 18th 2022 (11:59pm GMT). Muscle Food reserves the right to modify, extend or cancel this promotion in any part or in its entirety at any time. Muscle Food's decision is final
This promotion is run by Muscle Food.
NO PURCHASE NECESSARY TO ENTER OR WIN. A PURCHASE WILL NOT INCREASE YOUR CHANCES OF WINNING.
DETERMINATION OF WINNERS: During the Contest Period, apply for the Contest with the above form and instructions to complete the registration ending April 21st, 2022 (11:59pm GMT). Complete and submit the registration. One (1) person will then be selected to be Muscle Food's recipe tester. Limit: 1 Contest entry per duration of the contest. Muscle Food will make the random selection of the candidate at the conclusion of the Contest making this decision final and binding. Candidate will be notified via email, and must reply to the notification within seven (7) days, or the prize will be forfeited, and an alternate winner will be selected. Each winning entry will be confirmed by appropriate employees of Muscle Food whose decisions are final on matters relating to this Contest. Muscle Food is not responsible for any changes to a Prize Winner's email address or other information which may interfere with winner notification. To qualify for a Prize, a Prize Winner may be required to provide a delivery address and contact number to be returned within seven days of the issuance of notification or such other date set forth in the notification by Sponsor. Failure to comply with all instructions in a Prize notification, or if a Prize is not claimed within seven (7) days after Prize notification, or is returned as non-deliverable, may result in disqualification of the entry and the selection of an alternate Prize Winner.
PRIZE TERMS: Muscle Food will strive to deliver prizes monthly upon confirmation of winner and acceptance of the prize. Prizes are non-transferable. No substitution or transfer of Prize will be offered or permitted. If a Prize is unavailable, Muscle Food reserves the sole right to substitute a prize of equal or greater value. Redemption of all Prizes is subject to all standard terms, conditions, and restrictions applicable to Muscle Food on the day of issuance.
CONDITIONS OF ENTRY: An eligible entrant must enter by completing the entry procedures as described in these Official Rules. All entries submitted that are not in compliance with these Official Rules are void. Incomplete entries are void, including any inappropriate, incomplete or duplicative entries. Neither Muscle Food, nor Muscle Food Affiliates, assumes any responsibility for late, lost, illegible, misdirected or postage-due entries. Any entrant that provides materially false information shall be disqualified. By entering, entrants accept and agree to these Official Rules, including all eligibility requirements. Proof of sending or submission will not be deemed to be proof of receipt by Muscle Food. By submitting any information or content to Muscle Food Affiliates, you represent that you have the full legal right to provide such information and that use of the information by Muscle Food will not (a) infringe any intellectual property rights of any person or entity or any rights of publicity, personality, or privacy of any person or entity; (b) violate any law, statute, ordinance, or regulation; or (c) constitute disclosure of any confidential information owned by any third party.
RELEASE: By entering this Contest, you hereby certify that you have complied with all the rules of this Contest and that you have committed no fraud or deception in entering this Contest or in claiming any Prize. The winner assumes all liability for any injury or damage caused, or claimed to be caused, by participation in this Contest.
BY ENTERING THE CONTEST OR ACCEPTING ANY PRIZE, EACH ENTRANT AGREES TO BE BOUND BY THESE OFFICIAL RULES AND AGREES THAT SPONSOR AND ITS AFFILIATES, SUBSIDIARIES, OFFICERS, DIRECTORS, EMPLOYEES, REPRESENTATIVES, AND AGENTS, AND ALL OTHER ASSOCIATED WITH THE DEVELOPMENT AND EXECUTION OF THE CONTEST (COLLECTIVELY, "MUSCLE FOOD PARTIES") WILL HAVE NO LIABILITY WHATSOEVER FOR, AND WILL BE HELD HARMLESS BY, THE ENTRANT FOR ANY LIABILITY FOR ANY INJURY, LOSS, OR DAMAGE OF ANY KIND TO PERSONS, INCLUDING DEATH, AND PROPERTY, DUE IN WHOLE OR IN PART, DIRECTLY OR INDIRECTLY, FROM THE ACCEPTANCE, POSSESSION, USE, OR MISUSE OF THE PRIZE OR PARTICIPATION IN THIS CONTEST OR ANY PRIZE RELATED ACTIVITY. MUSCLE FOOD PARTIES DISCLAIM ALL WARRANTIES AND THE SELECTED PRIZE WINNERS WAIVE ALL WARRANTIES, EXPRESS OR IMPLIED, INCLUDING IMPLIED WARRANTIES OF MERCHANTABILITY AND FITNESS FOR A PARTICULAR PURPOSE. EACH ENTRANT AGREES TO RELEASE, INDEMNIFY AND HOLD THE SPONSOR PARTIES HARMLESS FROM AND AGAINST ANY CLAIMS OF LIABILITY, LOSS OR DAMAGE, JUDGMENTS, COSTS AND EXPENSES (INCLUDING REASONABLE LEGAL FEES AND LEGAL DISBURSEMENTS) ARISING OUT OF OR INCURRED IN CONNECTION WITH THEIR PARTICIPATION IN THIS CONTEST OR THE ACCEPTANCE OR USE/MISUSE OF ANY PRIZE AWARDED BY MUSCLE FOOD.
THE MUSCLE FOOD PARTIES SHALL NOT BE LIABLE FOR ANY DIRECT, INDIRECT, SPECIAL, INCIDENTAL, CONSEQUENTIAL OR PUNITIVE DAMAGES OF ANY KIND WHATSOEVER, INCLUDING LOST REVENUES OR LOST PROFITS, WHICH MAY OR DOES RESULT FROM THE ACCEPTANCE, POSSESSION, USE, OR MISUSE OF THE PRIZE OR PARTICIPATION IN THIS CONTEST OR ANY PRIZE RELATED ACTIVITY, REGARDLESS OF LEGAL THEORY, EVEN IF THE REMEDIES OTHERWISE AVAILABLE FAIL OF THEIR ESSENTIAL PURPOSE. UNDER NO CIRCUMSTANCES WILL THE TOTAL LIABILITY OF THE MUSCLE FOOD PARTIES IN CONNECTION WITH, BASED UPON, OR ARISING FROM THE ACCEPTANCE, POSSESSION, USE, OR MISUSE OF THE PRIZE OR PARTICIPATION IN THIS CONTEST OR ANY PRIZE RELATED ACTIVITY EXCEED THE AMOUNT OF THE PRIZES.
SOCIAL MEDIA PROMOTION: Although the Contest may be featured on Facebook, Instagram or any other social media platform, the Contest is in no way sponsored, endorsed, administered by, or association with Facebook, Instagram or any other social media platform and you agree that Facebook, Instagram and any other social media platform are not liable in any way for any claims, damages or losses associated with the Contest.
MISCELLANEOUS: Muscle Food Parties are not responsible or liable for any events beyond their control, which may cause this Contest to be stopped, including any error, omission, interruption, deletion, defect, delay in operation or transmission, communications line failure, theft or destruction or unauthorized access to, or alteration of, entries, nor are they responsible for any problems or technical malfunction of any telephone network or telephone lines, computer on-line systems, servers, or providers, computer equipment, software, failure of any email or entry to be received by Muscle Food on account of technical problems, human error, filtering or traffic congestion on the internet or at any web site, insufficient space in an entrant's account to receive messages or any combination thereof, including any injury or damage to entrant's or any other person's computer relating to or resulting from participation in this giveaway or downloading any materials in this Contest. If, for any reason, this Contest is not capable of being conducted as planned, including due to tampering, unauthorized intervention, typographical errors, technical failures, fraud, low participation, or any other causes beyond the reasonable control of Muscle Food that corrupt or affect the administration, security, fairness, integrity, or proper conduct of this Contest, Muscle Food Parties reserve the right at their sole discretion to cancel, terminate, modify, or suspend this Contest. Muscle Food Parties reserve the right in their sole discretion to disqualify any individual found to be tampering with the entry process or the operation of this Contest or to be acting in violation of these Official Rules or any other promotion, or in an unsportsmanlike or disruptive manner. When used herein, the words "includes" and "including" and their syntactical variations shall be deemed followed by the words "without limitation." ANY ACT OR ATTEMPT TO DELIBERATELY UNDERMINE THE LEGITIMATE OPERATION OF THE Contest IS A VIOLATION OF CRIMINAL AND CIVIL LAWS AND SHOULD SUCH AN ACT OR ATTEMPT BE MADE, MUSCLE FOOD RESERVES THE RIGHT TO SEEK DAMAGES OR OTHER REMEDIES FROM ANY SUCH PERSON(S) RESPONSIBLE FOR THE ACT OR ATTEMPT TO THE FULLEST EXTENT PERMITTED BY LAW.
CHOICE OF LAW AND JURISDICTION: All United Kingdom laws and regulations apply. This Contest and all matters, issues and questions concerning the construction, validity, interpretation, and enforceability of these Official Rules, or the rights and obligations of entrants, Prize Winners, and Muscle Food in connection with this Contest, shall be governed by, and construed in accordance with, the laws of the United Kingdom, without giving effect to any choice of law or conflict of law rules or provisions which might otherwise cause the application of the laws of any jurisdiction other than the United Kingdom. You agree that any and all disputes that cannot be resolved between the parties, and causes of action arising out of or connected with this Contest, shall be resolved individually, without resort to any form of class action, exclusively by arbitration in a location selected solely by Muscle Food.
SPONSOR AND WHO WON: The Sponsor of this Contest is Muscle Food. To find out who won this Contest, send a self-addressed stamped envelope to Muscle Food Recipe Tester Contest, 23-25 Park Lane Business Centre, Park Lane Old Basford, Nottingham, NG6 0DW. Requests received after six (6) months after the end date will not be honored.
PRIVACY POLICY: By entering the Contest, you recognize and agree that the use of your contact information, and any other information collected is subject to Sponsor's Privacy Policy, which is available at: www.musclefood.com/privacy-policy.